Exhibition Title | Korean and Japanese Modern Artists in Korean Peninsula, 1890s-1960s
Period | 4 April – 8 May 2015
Venue | Kanagawa Prefectural Museum of Modern Art, Hayama, Japan
Introducing approximately 300 pieces of artwork, this exhibition embraces such thematic subjects from things Korean to both domestic and natural sceneries on a large scale. It comprises not only works by native Koreans and those Japanese living in the peninsula as part of the colonial administration, but also works by Japanese artists visited Korea and various related resources. The direction of the exhibition is aimed to reexamine the de facto 'orientalist' view, which had great influence upon previous researches. It is taken into account that this approach is inherently ambivalent at the current level, and it might not provide a clear outline of the mutual exchange between Korean and Japanese artists or their shared experiences in a colonial space equally.
It travels throughout Japan for ten months, and henceforth the Kanagawa, it will be successfully shown in Niigata, Gifu, Hokkaido, Miyazaki and Fukuoka.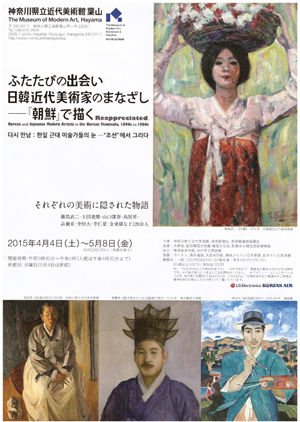 Review(KOREAN)
http://www.koreanart21.com/review/modernKoreaArt/view?id=4999&page=1